Introducing a New Limited Edition Tote, Shirt and Bandanna Kit by Jeremy Fish - And a Chance to Win 1 of 3 Original Pencil Sketch Drawings If Your Set Includes a Golden Ticket (aka SF's Emperor Norton-inspired currency)
To help us celebrate the reopening of our San Francisco and Portland stores after a long lockdown, Jeremy has created The Fish Kit, featuring two new limited edition designs:
THE BIRD IS THE WORD TEE eloquently captures the mood of these Covidian times as only Jeremy's classic middle finger can. Available on men's and women's tees.
THE BUNNY BEARD BAG was created in solidarity with our two store locations and features bunny paw callouts to both SF and PDX.
THE FOWL MOOD BANDANA design available for the first and only time on a bandanna.
SPECIAL IN-STORE BONUS: HAPPILY EVER AFTER BOOK: The first 50 peope to purchase a FISH KIT in our SAN FRANCISCO and PORTLAND STORES will also receive a FREE bonus copy of Jeremy's book, Happily Ever After.
These three products are ONLY AVAILABLE AS A SET IN A LIMITED QUANTITY OF 250 which are equally distributed in our online shop and in our two locations in San Francisco and Portland.
Hidden inside a random set at each location is one of three signed and numbered GOLDEN TICKETS, which will entitle the lucky winner to an original, signed illustration by Jeremy. Read on to get the details!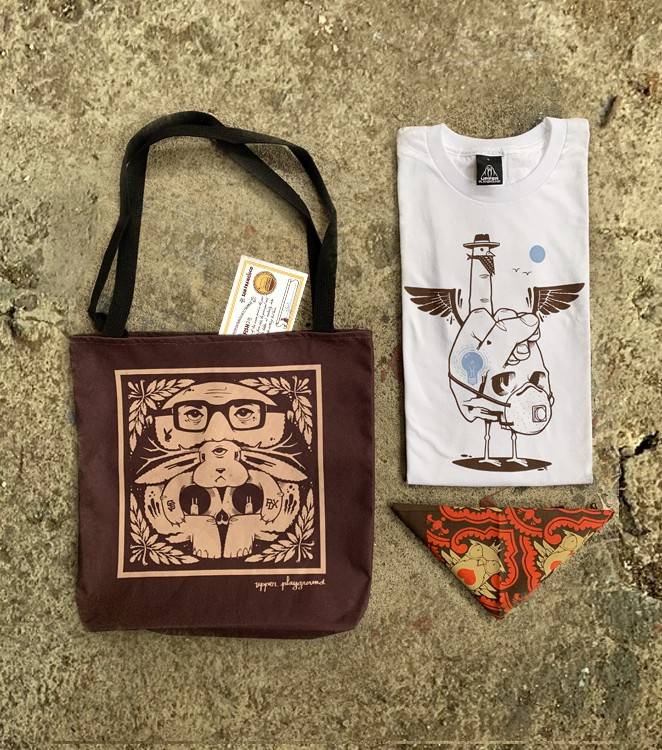 ---
THESE LIMITED EDITION PRODUCTS CAN ONLY BE PURCHASED AS A SET
---
THE GOLDEN TICKET GIVEAWAY

SAN FRANCISCO
220 Fillmore Street
San Francisco, CA 94117
(415) 861-1960
HOURS Mon - Sun: 12-7pm
PORTLAND
23 NW 5th Ave.
Portland, OR 97209
(503) 548-4835
HOURS Wed - Sun: 10am - 5pm